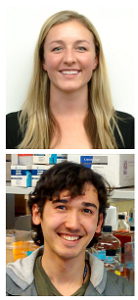 With a blast of confetti falling from above the stage at the Charity Randall Theater, the participants in the 2018 Randall Family Big Idea Competition celebrated the culmination of two months of extra-curricular work on ideas for new products ranging from a software platform to connect hunters to landowners to a new insulin pump for diabetics, to a wearable earbud for helping disabled people control devices with eye movement.
And 13 of the 40 finalist teams celebrated sharing the $100,000 in prize money. This year's competition was the largest yet, with more than 300 students of all levels, from freshman to doctoral, participating in the initial round comprising more than 100 teams. Teams led by University of Pittsburgh Swanson School of Engineering students captured at least one win in every place.
Yolandi Van der Merwe, PhD and Mark Murdock – both from the lab of McGowan Institute for Regenerative Medicine deputy director Stephen Badylak, DVM, PhD, MD, Professor in the Department of Surgery and Director of the Center for Pre-Clinical Tissue Engineering within the McGowan Institute – were team members winning a $15,000 prize for their idea entitled "Re-Vision, a therapeutic platform to promote ocular tissue healing after injury."
Dr. Van der Merwe graduated in April with her PhD in Bioengineering from the University of Pittsburgh. Her dissertation research focused on improving vision after ocular trauma by utilizing extracellular matrix (ECM) components to reduce the inflammatory response and improve retinal neuron survival and function after injury. Mr. Murdock is a graduate student in the Department of Pathology at the University of Pittsburgh. His research projects involve a collaboration with the laboratory of Kyle Orwig, PhD, focused on improving reproductive therapies through use of ECM components and his doctoral work in determining the role of the glioma microenvironment in modulating brain-resident macrophages.
This years' competition marked the 10th anniversary and it included the announcement that Pitt trustee Bob Randall and his family are donating $2 million to establish the Big Idea Center at the Innovation Institute to support student entrepreneurship. See that full story here.
The Big Idea prize winners will proceed into the Blast Furnace student accelerator beginning in May to further develop their ideas with the goal for some of creating startup companies around their ideas.
The Randall Family Big Idea Competition is made possible through the generous support of the Randall family. Robert P. Randall was president and chief executive officer of the Three Rivers Aluminum Company (TRACO), a prominent regional door and window company, which was acquired by Alcoa and is now a division of Kawneer. Mr. Randall continues to give back to the community through his position on the Board of Trustees at the University of Pittsburgh, his work with the United States Chamber of Commerce, and as a board member of both the Allegheny Conference on Community Development and the Pittsburgh Regional Alliance.
Congratulations, Dr. Van der Merwe and Mr. Murdock!
Illustration:  The Badylak Laboratory.
Read more…