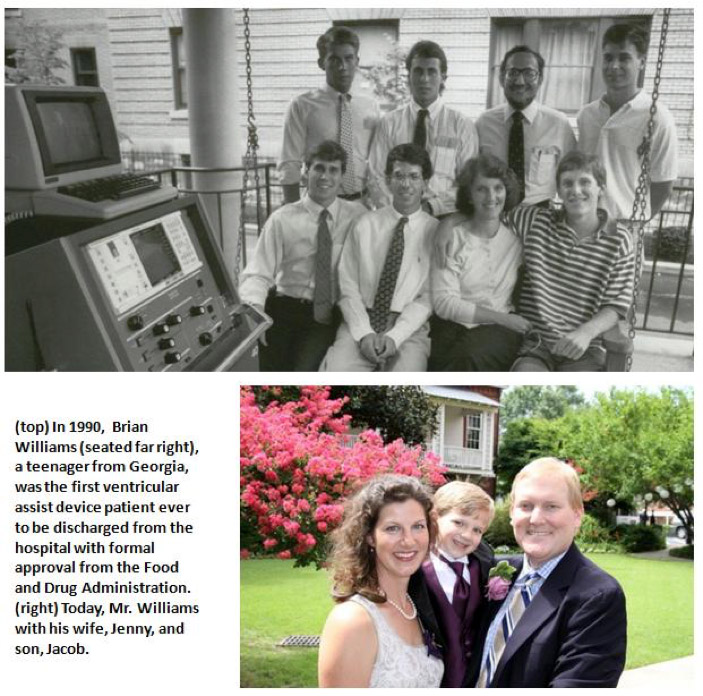 Twenty-five years ago a historic medical event occurred in Pittsburgh. In 1990, Brian Williams, a teenager from Georgia, was the first ventricular assist device (VAD) patient to be discharged from the hospital with formal approval from the Food and Drug Administration. Mr. Williams was discharged from the University of Pittsburgh Medical Center's Presbyterian Hospital to a local Family House, where he lived with his parents while waiting for a heart transplant. As amplified below, substantial progress has been made in the size and reliability of VAD systems since 1990 through collaborative efforts between McGowan Institute for Regenerative Medicine faculty and device manufacturers. Over the years, Mr. Williams has told his incredible story to audiences of bioengineers, including students and faculty nationwide. He also has experienced much happiness in his life. He has completed his undergraduate and graduate education, is married to Jenny, and has a son, Jacob.
VADs are mechanical devices that help the heart pump blood from one of the main pumping chambers to the rest of the body. VADs have been used since the mid-1980s. In their early days, however, VADs were considered only as a short-term solution for a defective heart. The device was bulky, had a large support console (see console at the left in the 1990 photo above), and required patients to be hospitalized in an intensive care unit. The size of these early VAD pumps excluded most women and children from being candidates for this therapy.
A breakthrough came when McGowan Institute researchers focused on the support of patients with an implantable VAD. Also, these engineers and clinicians were among the first in the world to visualize the VAD as a resource for destination therapy—where the VAD is intended to be the final therapy, vs. serving as a bridge to a transplant for people awaiting a transplant. Today, in certain select cases, VADs can help patients recover from heart failure, making transplantation unnecessary.
"Over the years, Institute clinicians, bioengineers, and students have worked together seamlessly with commercial partners to develop VAD technology and apply it to the circulatory support of heart failure patients for whom no other possible therapy was available, from infants to senior citizens," said McGowan Institute for Regenerative Medicine faculty member Harvey Borovetz, PhD, Distinguished Professor and former Chair (2002-2013) in the Department of Bioengineering, Swanson School of Engineering at the University of Pittsburgh. "This is something all of us at the McGowan Institute are very proud of."
Scientists and clinicians at the McGowan Institute for Regenerative Medicine have advanced VAD technology and use, helping to extend and improve the quality of life for people around the globe. VADs developed in collaboration with industry partners at the McGowan Institute are routinely used across the world and have evolved to the point that they are now used as end-stage therapy in many patients, not just as a temporary bridge to transplantation. Today, the UPMC Artificial Heart/VAD Program has achieved 379 cumulative years of circulatory support in 963 heart failure patients since October 1985.
William G. McGowan Charitable Fund: Revolutionizing Care for Failing Hearts
McGowan Institute for Regenerative Medicine In the News: Pioneering Initiative = Improved Standard of Care + Educational Success
Pittsburgh Post-Gazette (09/07/1990) – PDF
McGowan Institute for Regenerative Medicine Podcast: Brian Williams