Clinical Translation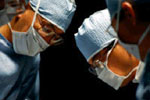 Through its affiliation with the University of Pittsburgh Medical Center, the McGowan Institute for Regenerative Medicine has access to one of the nation's finest health systems. In fact, the University of Pittsburgh Medical Center is consistently ranked by U.S. News and World Report as one of the best health systems in the country, with a well-established and well-organized clinical trial infrastructure, and a large, diverse population from which to draw study subjects.
In addition the Institute's collaboration with the Department of Defense provides some unique opportunities to facilitate the clinical assessment and translation of emerging regenerative medicine-based therapies.
Through these collaborations, and based on the pioneering studies of McGowan affiliated faculty members, there is a seamless transition from bench top to bedside with the goal of providing excellence in clinical care through mechanisms of repair, recovery and replacement.
For a list emerging technologies pioneered by McGowan Institute affiliated faculty, click here
For clinical trials at the University of Pittsburgh, click here
For all NIH sponsored clinical trials in the U.S., click here